Pest Control South London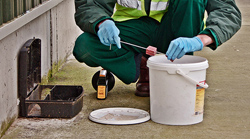 At ABBA Pest Control we operate a dedicated pest control south london service. We are based in Sidcup and can cover any area within south london and the Kent borders very quickly. If you are looking for a local company rather than a big national then we are the ones for you. ABBA is a family run business that operates with the ultimate level of professionalism. We regularly send all of our staff to training courses so that they keep up to date with the latest techniques for long term and effective pest control.
We offer a full range of pest control services from emergency call-out to scheduled routine visits.
The time of year largely dictates what types of pest you will see. The summer months are often plagued by wasps and ants whilst the winter months see a big influx of rats, mice and rodents as they move inside to avoid the cold.
If you have a commercial property or business then why not arrange a regular contact with us? We are very competitively priced and have over 40 years of experience. Our team are complete professionals and we always arrive in unmarked, discreet vehicles to save any embarrassment for your business or property.
Widespread Pest Control South London Coverage
Our base is in Sidcup, bordering south London and kent so we are able to reach any local area easily and quickly. We specialise in work across all of the local boroughs such as Bexley, Lewisham, Greenwich and Bromley. This map shows a good indication of the areas that we can cover.
Contact
Many people call us for advice and we are happy to help. We are are a family run business and care about our customers, so if you find yourself with a pest problem currently or want to take preventative steps to make sure you don't end up with one then give us a call. We have a wealth of experience and over 40 years of knowledge. Send us an email to info@abbapestcontrol.co.uk or to contact us for free advice or to book an appointment please call our friendly staff on:
07850 839655

/

020 8300 3496