Pest Control of Foxes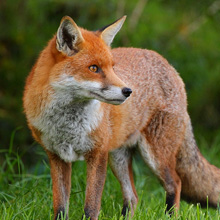 Loved by many but a huge problem to others, the common urban fox. There is a good website here dedicated to everything you need to know about foxes.
Please be assured we will deal with your fox problem in a professional manner. Our prices are very competitive so please ring to discuss your requirements with us directly. You will be under no obligation.
Since the 1940's fox populations have been on the increase in the UK – especially so in urban areas. The 90's saw a blip on population numbers as a disease spread through the species of mainland Britain and wiped a lot of them out. Since then populations have recovered and are now thriving. In urban areas and cities they eat a wide range of food stuffs and are not limited to scavenging, with some householders even feeding them.
Foxes can sometimes carry a range of parasites and diseases relevant to the health of domestic pets and people. As members of the canine family foxes are known to transmit numerous contagious diseases which can affect the health of pet dogs and cats. Most foxes have a variety of fleas and ticks but the most common disease which foxes are likely to transmit to man is toxocariasis.
Fox faeces can be very toxic and should you see any, it should be removed straight away. Especially when young children are around – it must be ensured that children wash their hands before they eat if they have been in any contact.
Pest Control of Foxes
More and more these days we receive calls about pest foxes. If you are currently experiencing an issue and need some pest control of foxes then give one of our friendly team a call on 07850 839655 or 020 8300 3496, to see what we can do for you.
OTHER PEST INFO: